Review: Pro Writing Aid
This review contains affiliate links which may reward me in the event of a subscription or sale.

I use these funds to feed my cats. Thanks for the cat food.
Want to improve your writing?
**I can credit this program for helping me win an AWAI contest.
The best money I ever spend is on this product. Pro Writing Aid can take your writing skills up a notch and the more you use the program the better your writing will improve. Is like a one-on-one grammar tutor that points out options to help you use the correct words.

The first time I used the program was shock at how poor my efforts of writing revealed when analyzed by their software.
Paste or upload your content into the text box. Select a "Writing Style" from the drop-down menu on the top right. The choices identify how you want your content analyzed in the software program which are: general, academic, business, technical, creative, casual, and web.
The software has been updated to a "New Editor" I like to use both to run analysis for my articles. I prefer the "Old Editor" for the bold reminders. Benefits of the New Editor is you can change and make updates right within your document.
The Old Editor gives you the words in "red" that should change or are questionable. When you click on the "Over Used Words" and your document has glaring bright red words staring back at you, makes you aware of how many times "that", "was", "have", "would", etc. are dominating your brilliant masterpiece of written work.
In the over-used word tool the words that contain too many "ing" and "ly" words are in red and this is an eye-opener of how often they are used to describe actions instead of using verbs.
The Best Part of Over Used Word Tool

Another great aspect of the "Over Used Word" tool shows you how many times the word or similar words in the category you use and how many you should remove. So as I stare at the words in red and return to my Word document program I can recognize them pop-out at me with no need for color.
It plants the vision of red words in my brain. A marvelous incentive to write better.This factor is a good training tool. After many times using the Old Editor program, it will be faster to use the New Editor, which is a superior part of the software.

If you see 9 "had" words in red in your 400 word essay, the problem words jump out at you every time you sit down to write. The exercise requires you to rewrite a sentence removing the excess words and by golly your sentence sounds so much better. The program not only points out the errors of your ways but makes you more conscious of how you construct a sentence. Bottom line – you become a better writer.
My most recent document (prior to the start of this review) I loaded into the software had no "over used words", I was ecstatic.
After each item (writing style, grammar, etc) in the sidebar are little red boxes with white numbers reflecting how many issues needed to address on the other components in the software.

The Old Editor breaks your paragraphs up as in "Writing Style Check". It has a block that gives "Suggestions for this paragraph" it changes the color of the word or words and underlines them. The box gives possibilities on how to fix, I like this feature of the Old Editor.

A few of the checks are "writing style, sentence length, grammar, vague & abstract words".
Lots of courses can teach you how to write in many genres and Pro Writing Aid can improve the outcome of your efforts.
What… ? Quaint is a "vague" word. And I thought it was descriptive. Quaint to me is a nice well-kept village with all the old antique style that makes me smile. To someone else may mean old and run-down. Vague words we all used to describe what we see in our own mind. Their influence on other people's emotions may be different.
Negative Parts of the Old Editor
Many of the Old Editor features are not available unless you purchase the Premium program, but the New Editor provides most features without additional expense.

Pro Writing Aid New Editor Benefits

The New Editor immediately analyzes your content. Click on the Summary and you get to view your results. The Old Editor is slower and takes time to analyze the document.
Pro Writing Aid keeps showing "vague" on numerous descriptive words. Bombarded and shot down with what seems impressive and clever words has forced me to rethink my vocabulary. The "New Editor" format has a Thesaurus with no extra charge. Love the fact you can hover over the underlined words and the drop-down box shows "alternatives".
"Homonym" checker gives you the opportunity to ascertain if you are using the correct "to", "there", "would", etc.
"Grammar" check identifies questionable words or phrases, and punctuation. It suggests that something may not be correct. Gives you the option to get clarity on what you mean. Some suggestions are asking you to use a simpler word. If you are inclined to end up with an FK score of grade 9 or higher, this might be worth finding an alternative word. FK score of Grade 8 or below are easier for people to read and understand.
The New Editor Summary gives a detail of your complete article. This includes a long list of items which you can further investigate for more details in the top bar menu of the site.
Document Scores – with a grading out of 100.
Key Actions – high-glue filler words.
Document Statics – include word count, the number of paragraphs and sentences.
Vocabulary – unique words and word families.
Readability Measures – FK scores, reading ease, and even rating your paragraphs.
Overused Words – as described above.
Sentence Structure – encouraging you to have a variety in sentence length for readability.
Sentence Length – provides a graph so you can see the varied length of sentences. Red flag, if your sentences have almost the same amount of words.
Writing Style – shows passive index, adverbs, hidden verbs, repeated sentence starts (example: using "The" consecutively for 3 sentences), style suggestions.
Grammar & Spelling – issues and suggestions for each.
Sticky Sentences – will show how your document rates on the glue index. Sentences that contain unnecessary words which make the reader's job more labor intensive. Get to the point without filling up the article with empty meaningless space. When I first ran this document in Pro Writing Aid I had 8 sticky sentences.

Dialogue – if you have any in your article this check will produce a report.
Pacing – the software defines slow moving sentences and what you need to look for if your article needs more life.
Transitions – words and phrases that link your writing, to help make sense of what is being read.
Repeated Phrases – it can point out one word or more. Not a good idea to repeat the same descriptive word multiple times in a 500 word article. Better to select another suitable word that means the same.
Cliches & Redundancies – very important to keep a check on these aspects of writing. My take on "cliches".
Consistency – reveals inconsistent spelling, hyphenation, and capitalization in your content. This feature might show you wrote Island with a capital and in another section of your content, you did not. You can determine if it is appropriate to use both ways and at times you would be correct. Island at the start of a sentence or name of an island needs a capital. But referring to any island would not require the capital.

Other Items – under this category are: Diction and they provide each word with a simplified suggestion. Vague and Abstract Words listing them. Corporate Writing and they list the words providing a simpler or an alternative one which you may not agree with the choice or it would lose something in the translation if you changed the word.
Additional categories not included in the Summary score are: Alliteration analysis, Acronym, Thesaurus, and Echoes. Also a Plagiarism category which you can add for an extra charge. If you edit someone's content this might be of utmost importance.
The Readability underlines difficult and easy-to-read paragraphs. The software will underline each one and holding the mouse over it will produce a box giving you a Flesch Reading Ease score. If it is harder to read it will suggest revising. 
If you correct any text in the New Editor, it will correct the words underlined on the sidebar summary and the colored lines will disappear from your text.
Style – will have a list to the left of the document with suggested corrections and check marks on other items.

Some categories in the New Editor Summary rate your writing against other users of the software. This bonus to the program can be an ego booster. It gives you another reason to achieve at a higher level of writing.
Because of this software program I won a writing contest. With the many corrections advised by Pro Writing Aid I made the article a better finished product. Without the program I know I could not have succeeded.

My take-away of the program benefits. You can improve your writing skills by having Pro Writing Aid analyze what you wrote. But you monitor how much editing your writing needs. Over edit and your document loses the concept of what you are trying to say. The program helps you eliminate a lot of filler words and over-used words. Better to have a friendly editor helping you than having one that rejects your work. (affiliate links below)

** Free E-book:Take Your Writing to the Next Level: 20 Editing Tips from Professional Writers (get it here)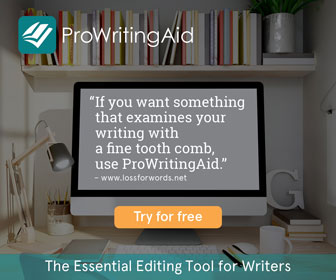 Updates: I have being using the "New Editor" on a regular basis and enjoy the extra features. It did help to have all those overused words glaring at me in the beginning, but I have since been able to recognize and eliminate them before sending the document over to the ProWritingAid software. The company sends newsletters out and are always giving valuable information which I keep for future reference.
Started using their Thesaurus Check. Have found it to be extremely helpful. Beats having to look up alternative words. Of course, as in this program, there are cases where the suggestions don't make any sense for the content. You have to use common sense when editing your work. If it doesn't read right, then don't choose the suggested text.
Another benefit with this program is you can pick your country of English from the following list, General, British, US, Australian, Canadian. Also helpful is you can choose document type, from a list of 8 categories.

Note: Be sure and download your Free E-book. (link above)
5-13-2022 Update: ProWritingAid is always updating their software for a better user experience. Along with their educational emails it is well worth the investment if you plan to do writing of any kind. I have never regretted the day I decided to invest in this program. It is helped me improve my writing skills from day one. Write like you talk, "they say". But the problem with that is many times it doesn't read so well in writing. It can be awkward with many overused and filler words.


As a copywriter:

I help businesses grow through marketing.

Bringing products and services to the world.